Hey friends!
In this lesson I'll teach you how to draw a leather jacket.
Well, I'm vegan, so let's say this is a synthetic leather jacket, shall we? (=
Anyway – check out the vid, and I'll wrap up with some key tips!
Okay, hope you enjoyed this one!
Here are a few key tips for drawing jackets.
Learn How to Draw Folds and Clothes
This is rather obvious. You must understand folds in clothes, and learn how to draw them.
For a good beginner's guide, check out my book on drawing folds and clothes on Amazon.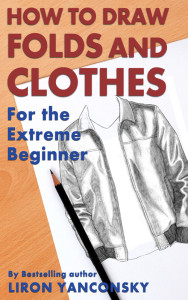 Leather / synthetic Leather
What characterizes clothing items made of leather or synthetic leather is that they are mostly THICK and DURABLE.
This cause LESS folds to appear. It also causes them to become thicker and larger.
This can very from one jacket to another, but it can be used as a general rule.
Also, this material is usually shiny. This means we'll leave many areas entirely white in our drawings.
And that's really all there is to it. Follow these guidelines while using reference, and I'm sure you'll get this down.
Here is the final version of this drawing: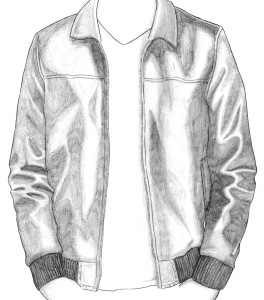 Let me know if you have any questions.
And as always, be sure to SUBSCRIBE to my blog (ON THE LEFT), or via my Get Awesome Stuff page!
You'll get my eBook for free + great tips and advice on drawing, delivered straight to you! (=
I'll talk to you soon,
– Liron