Hey there!
Today I want to do something special.
In this video I show you how to draw a battle scene between Shay Patrick Cormac and Adewale – two characters from the Assassin's Creed Rogue video game.
This is less of a drawing lesson, and more of a speed-drawing demonstration of my complete drawing process.
You'll see everything from drawing, to painting (watercolors AND colored pencils) and inking.
So without further ado, here it is!
A few notes:
1. I like to paint before I ink.
This is something I talked about before.
This type of process allows the colors to really shine, and then also allows you to be minimal with your pen and ink.
2. I mix watercolors with colored pencils.
I like the look I achieve by applying watercolors and then completing the look using colored pencils.
This is a common practice, and is my favorite way to go. The watercolors easily cover large surfaces and give the base tone. Then, the colored pencils add the texture and more accurate shading.
However, you are invited to try a different way, and let me know if it works better for you (=
Anyway, this is it. Let me know if you have any questions!
And if you want to become a king at drawing, inking, painting, sketching and whatnot, be sure to subscribe here. You'll also receive my book as a gift! (=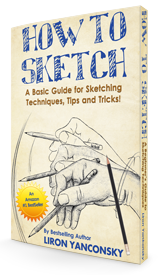 I'll talk to you soon,
– Liron